Welcome to Thanjavur Spinning Mill Limited
Thanjavur Spinning Mill Limited (TSML) formerly known as Thanjavur Textiles Limited is right now a part of Ramco Group of Companies, having a turnover of Rs.6,000/- Crores engaged in Cement, Textiles, Software and Fibre Cement Roofing sheets and accessories.
The Company has completed the sale of all the assets and now the Company is taking steps for reduction of Share Capital.
SCHEME OF ARRANGEMENT
The Board of Directors have approved a Scheme of arrangement between the Company and its Shareholders and creditors at their meeting held on 28-05-2019. The Company has proposed to reduce the entire preference share capital of Rs.27 Crores and Equity Share Capital of the Company by utilizing the excess fund available with the Company subject to approval of the National Company Law Tribunal (NCLT).

The Company has filed a petition before the NCLT seeking permission for reduction of Equity Share Capital, Cumulative Redeemable Preference Shares and Cumulative Optionally Convertible Redeemable Preference Shares on 26-07-2019. The NCLT has admitted the Company's petition and directed to convene the meetings of Equity & Preference Shareholders and unsecured creditors for getting their consent to reduce the Share Capital and such meetings were scheduled on 31-03-2020. Due to lockdown announced by both Government of India and Government of Tamil Nadu due to outbreak of Covid-19 virus, the above said meetings could not be conducted. The Company has filed a fresh petition before the NCLT seeking further directions on 07-09-2020 and once the Company receives directions from NCLT, it will take necessary actions to reduce the Equity Share Capital and also redeem the Preference Shares.
Founders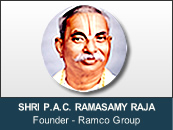 REGISTERED OFFICE:
"Rajapalayam Mills Premises",
P.A.C. Ramasamy Raja Salai,
RAJAPALAYAM – 626117.
Phone: 04563-235666.
E-mail: tsml@ramcotex.com